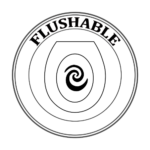 "Clog-free", "Septic-safe", and "Flushable" are one of the most important topics when you choose toilet paper, right?
All our toilet paper is flushable and meets the company standard that should be broken down within 30 seconds.
We produce toilet paper every day, and at the same time, we test toilet paper every single time.  There are about 10 test contents, but today I would like to introduce one of them, the dispersion test.
How to Test
Put 300ml water in a beaker and set it on a rotor.
Put 114×114-square toilet paper into a beaker.
The time needed for complete disintegration is recorded.
According to Japanese Industrial Standards, toilet paper should be broken down in under 100 seconds.  On the other hand, most of our products break down in under 30 seconds.
Did you know how we test the disintegration of toilet paper?
There are various other tests we do.  I will introduce them in this blog another day.